Remembrance commemoration 8 November 2020

The Mayor and Deputy Mayor or Bangor laid wreaths at the War Memorial on behalf of the City Council and people of Bangor, at a small unpublished ceremony on Remembrance Sunday.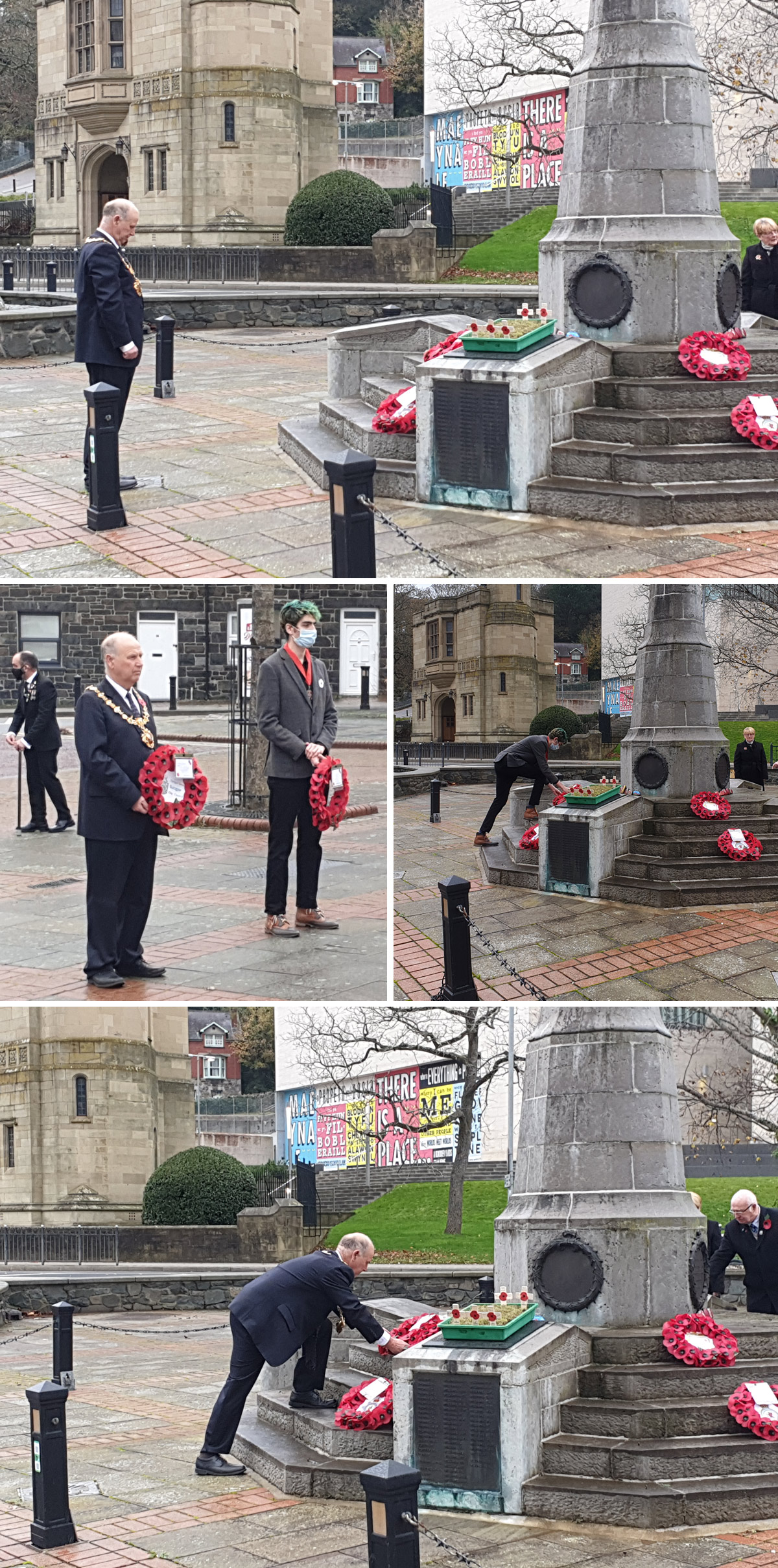 Bangor Pier
Covid 19 virus Update October 2020
The latest Welsh Government national restrictions to reduce the spread of the Covid 19 virus (Coronavirus) come into force on Friday 23rd October 2020. To encourage people to enjoy the outdoors and to facilitate exercise Bangor City Council wish to confirm that the Pier, like parks and other open spaces, will remain open. Users are asked to maintain social distancing restrictions.
BANGOR CITY COUNCIL - CITY DIRECTOR
Salary Scale LC3, Scp. 33 – Scp. 36
(£36,922 -£39,880)
This is an exciting and varied role that offers the opportunity for an enthusiastic and vibrant person to play a leading role successful development of the City of Bangor. The Council intends employing a person with excellent communicative skills and is able to work with elected members and varied partners within the City and is able to demonstrate the proven ability to lead and deliver projects.
If the above appeals then contact Bangor City Council Offices for an application pack and job description johnwynnjones@hotmail.co.uk or bangorcitycouncil.com
The closing date for the receipt of applications is 12 noon on Wednesday 21st October 2020;
VE Day: 08/05/2020
In a small and socially safe service, the Mayor, Cllr John Wyn Williams, joined representatives of the Royal British Legion and the North Wales Police in an act of commemoration and remembrance this morning to mark the 75th Anniversary of VE Day. The City Council would like to echo the message from the Welsh Government and encourage everyone to celebrate this day but to do so safely and within the social distancing guidelines.
For some ideas on how to mark the occasion while staying at home, click here ve-vjday75.gov.uk/get-involved
As the nation comes together here are some significant times:
2.45 pm: Extracts of Winston Churchill's announcement that the war is over will be transmitted.
2.55 pm: Bugle, trumpet and cornet players are invited to play the Last Post.
3.00 pm: Everyone is invited to raise a glass in national toast to those who gave so much.
9.00 pm: Message from the Queen and Vera Lynn will again lead the nation in singing We'll Meet Again.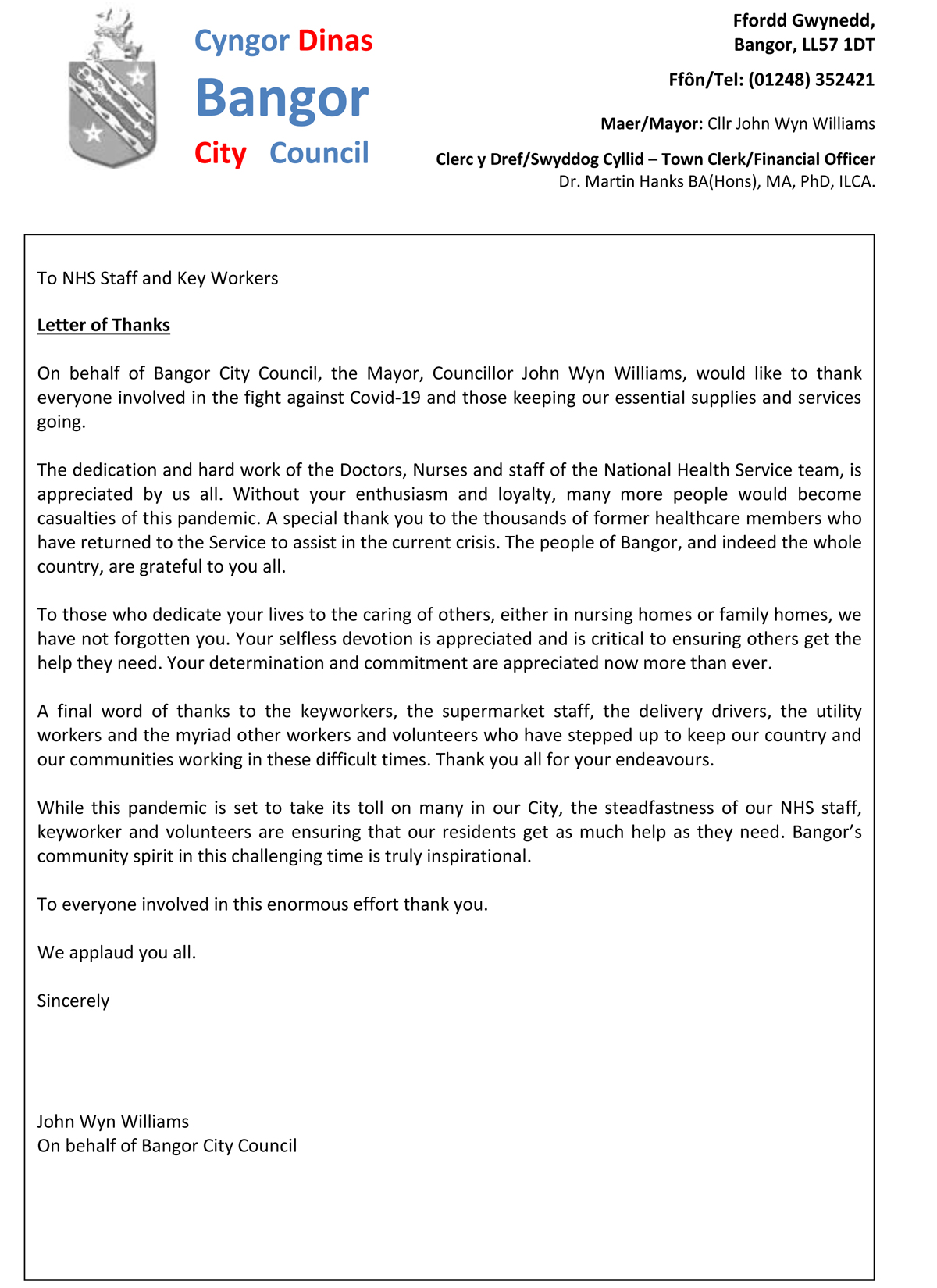 Covid 19 virus Update Spring 2020

Friday Street Market
Due to the continued spread of the Covid-19 virus and for the safety of the people of Bangor it has been decided to suspend the Friday markets, until further notice.
Bangor Pier
As a result of the increasing spread of the Covid 19 virus (Coronavirus) and Government advice regarding social distancing, Bangor City Council has today taken the difficult decision to close Bangor Pier to the public until further notice.
The City Council apologies for any inconvenience this may cause.